What to Consider When Snowmobiling in Utsjoki Region
What to Consider When Snowmobiling in Utsjoki Region
You have fine opportunities for snowmobiling in the Utsjoki region, once you find out where snowmobiling is allowed.
Snowmobile safaris
Several tourist entrepreneurs of Utsjoki region offer guided snowmobile safaris. A guided snowmobile safari allows for an opportunity to visit the finest snowmobiling areas safely and easily. Plus, all snowmobiling equipment is offered by service provider. Helmet is the most important snowmobiling item, it is required by law to wear one when driving snowmobile, taking a ride on snowmobile or being towed by snowmobile.
Terrain of Utsjoki is demanding, for example when starting from river valleys the trail starts with a steep ascent to the fell. Weather conditions change rapidly and usually without further warning signs. These are one of the many reasons why we recommend  snowmobiling with a guide.
Obtain Snowmobile Track Permit or Landowner's Permission
It is allowed to go snowmobiling in the terrain on the landowner's permission. When you have a snowmobile track permit, snowmobiling is possible on snowmobile tracks maintained by Metsähallitus. If there is an official snowmobile route on the ice, you can drive there without a separate permission. The purpose of snowmobile routes is to save the nature: land only wears out on certain places and is easy to fix. Before you go snowmobiling on unofficial routes, you should find out about the approval practice in the region.

Prepare Yourself Properly 
When you are snowmobiling, you should have the same safety equipment as other people moving on the ice: ice picks, heaving line and change of clothes in a waterproof bag. If you know you will move around a lot on the ice, inflatable overalls may be a good purchase. A sensible riding suit with reflectors, wearing layers of clothing, protective footwear and driving gloves make snowmobiling an enjoyable and safe experience. The most important snowmobiling equipment is the helmet, which is also required from potential passengers in the mobile and those travelling in any vehicles pulled behind the mobile. A snowmobile takes you quickly into the wilderness, and if a fog or storm catches you, navigating is possible with the help of GPS. You can download an area map in a mobile phone in advance and use GPS location if you get lost. Snowmobiling is much safer in a group of several people, and when one mobile or driver gets hurt, you can use another to get out of the wilderness.
Follow Speed Limits and Other Rules
Please remember that use of alcohol and snowmobiling do not mix. Snowmobiling on the roads is only allowed, if it is unreasonably difficult to drive in the terrain and even on such an occasion, you should only drive on the unplowed part of the road. It is allowed to cross roads and bridges. The highest speed limit in the terrain and on the track is 60 kilometres per hour, and in exceptional cases on the road the speed limit is 40 kilometres per hour, and when you are pulling a sledge, it is 40 kilometres per hour. If the sledge gets stuck, you should tread the snow from in front of the mobile to act as a launchpad. This is easiest to do with snowshoes, which should be packed with you if you head out in deep snow.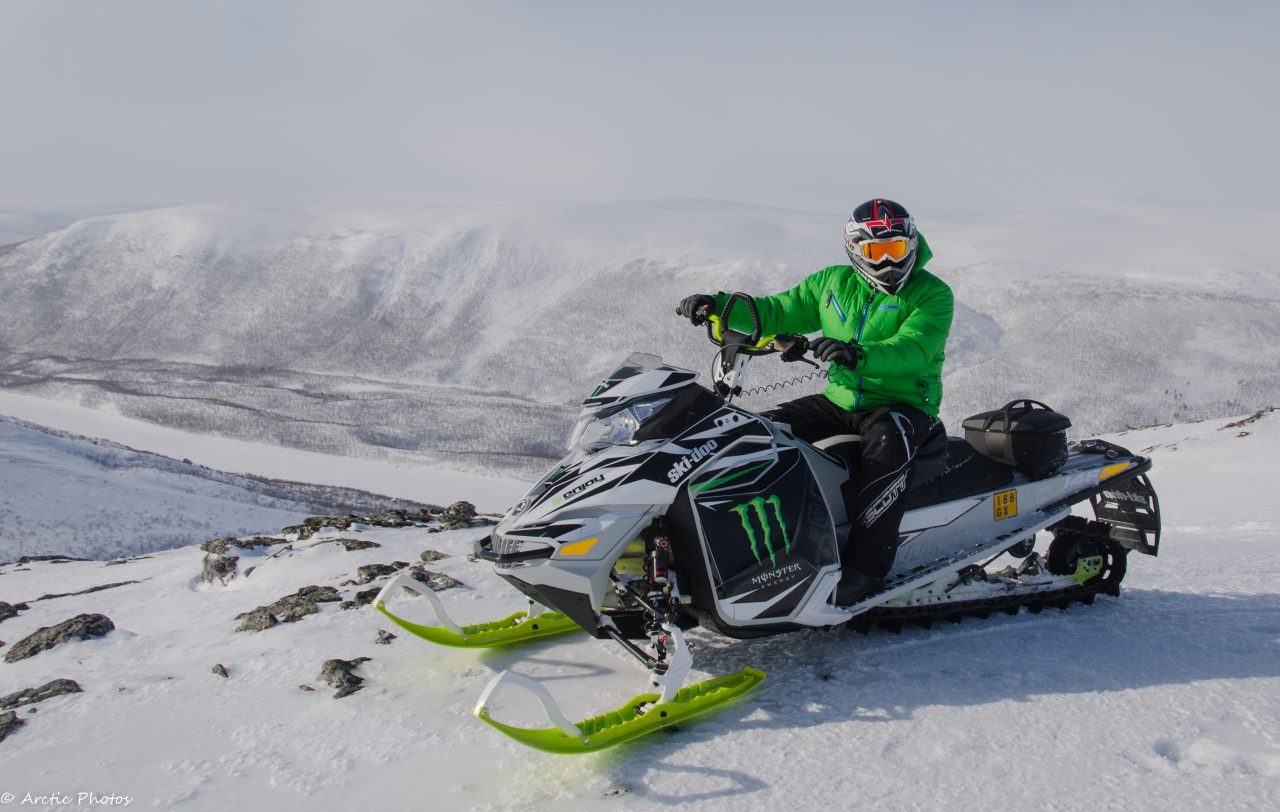 Have a look at safety tips for snowmobiling by the Finnish Road Safety.
This sustainability website has been created as part of a project on Sustainable Tourism in Utsjoki. The project is supported by the European Regional Development Fund, the Regional Council of Lapland and the municipality of Utsjoki, the aim of which is to make Utsjoki an even more responsible travel destination and to steer the travellers to travel in a responsible. More information on the project can be found here (in Finnish only).